Smooth 9.65 LC Review
Heavy Duty Running Machine
It's true that you can run on less expensive in-home treadmills and even on some of the better folding models but you really need a more sturdy, heavy duty machine for serious running, more frequent use and/or for heavier runners and joggers.
The Smooth 9.65LC gives you the strength and durability of a commercial quality treadmill at a moderate in-home price.
Smooth Fitness treadmills are mostly known for their durability and excellent residential warranties. The Smooth 9.65LC falls into their Premium Series which is Smooth's high-end residential models.
The Smooth 5.95LC is a Non-Foldable model so if you have limited space for your fitness equipment then the 5.95LC may not be the best choice. On the other hand, if you are a serious or frequent runner and want a strong, dependable machine that will last a virtually forever with little maintenance then the Smooth 9.65LC is a great choice.
---
Note: The Smooth 9.65 LC is currently unavailable (was selling for $1,999 directly from Amazon). See Smooth 9.65 LC Treadmill
for the latest availability, deals, customer reviews or to get this treadmill online at the lowest price.
---
Although many folding treadmills have improved and become much more stable in recent years you still get a more strength and stability in non-folding models like the Smooth 9.65LC.
The 9.65LC also has plenty of room for those long strides with its large 64" by 21" deck and the power to handle steeper inclines and heavier runners with its 4.0 CHP motor.
Smooth Fitness sells their products online and directly from the manufacturer rather than through b&m retailers allowing them to keep their prices down, their quality high and to offer excellent warranties and service.
Smooth 9.65LC vs. Smooth 9.65TV
There are currently two Smooth 9.65 models, the 9.65LC and the 9.65TV. These 2 treadmills have the same commercial grade hardware with essentially the same specifications and warranty.
The difference between these 2 treadmills is with the Electronics ~ and the Price.
The 9.65TV usually sells for $2,299 while the 9.65LC usually sells for $1,999.
The 9.65LC comes with 28 built-in programs while the 9.65LC comes with 55 built-in programs but the real difference is with the consoles, display screens, entertainment and motivational features.
The 9.65TV comes with a 10.5 inch LCD TV built-in to the console and 4 LED windows for your workout stats.

The 9.65LC comes with a Blue Backlit LCD Screen for your workout stats and has the option to add the mySmooth Virtual Fitness Trainer.
There are pros and cons with each of these options which is described below in our eReview.
For a complete side-by-side comparison of these 2 models, with the differences highlighted, See Smooth 9.65 - Compare LC and TV
---
Smooth 9.65LC Key Features and Benefits
Large 64" by 21" Running Surface - The deck size of the 9.65LC can handle even tall and heavy runners with long strides.
Powerful 4.0 CHP Motor that can easily handle steeper inclines and heavier users.
Max User Weight: 400lbs - The 4.0 CHP motor, larger running surface and even the Unit Weight: of 425lbs indicates that the 400lb user capacity is actually legitimate on this model.
Lifetime Parts Warranty - Many treadmills will have lifetime warranties on the frame and motor but how many times do you see a lifetime parts warranty. This is a good indication of the treadmill's quality and durability and should also give you peace of mind if something should break down (in your lifetime!).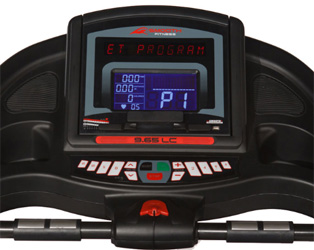 Large, Blue Back Lit LCD Display Screen - The large back lit display screen has a nice, uncluttered layout making it easy adjust the treadmill settings and to quickly check your workout stats.
mySMOOTH Virtual Fitness Trainer Option - The mySMOOTH Fitness Trainer App synchronizes your workout with scenic outdoor walking and running locations from all over the world. You control your treadmill speed on a tablet computer which adjusts the incline to match the terrain on the screen and keeps track of your workout stats for review. The mySmooth App for your tablet computer is Free but you need to purchase a Bluetooth module for the treadmill and the individual workout tours separately.
Treadmill eReview
The Smooth 9.65LC has the hardware, components and durability of a commercial grade treadmill along with a warranty to back this up. What distinguishes the 9.65LC from a commercial treadmill are the electronics and the price.
Commercial treadmills ~ at least at this point in time ~ do not normally include virtual tours and the ability to synchronize workouts to tablet computers, so this aspect of the treadmill would not be considered commercial grade. Fortunately, the price is not "commercial grade" either.
When you need a treadmill that can handle runners of all sizes, training in bad weather or in the off season and plenty of use and abuse, the Smooth 9.65LC is an excellent choice. This is really the strength of this machine.
As for the electronics, you get a good size backlit display screen for your controls and workout stats and the heart-rate chest strap and heart-rate control program are nice features to have. The console controls are easy to operate and the hand-rail speed and incline controls are also nice.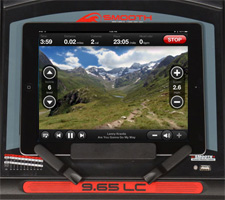 The mySMOOTH Fitness Trainer App is appealing and is a great idea but the customer reviews on this functionality are not very good.
Fortunately, this is an option so if you like having all the latest technology and are good with teckie stuff then I would say to give it a try. Remember, software products like this have constant upgrades so there is a lot of potential for this app.
If you are not good with the latest high-tech software and devices then I would say to take a pass on this option. The Smooth 9.65LC quality and durability can stand on its own even without the virtual tours.
When it comes to the Pros and Cons of the 2 Smooth 9.65 models, I like the 9.65LC better due to the Backlit LCD Display Screen. The 9.65TV model has the TV in the console but keep in mid that it is a 10.5 inch screen and you may need an additional converter box depending on how you receive your TV stations. Also since the TV takes up much of the console space your workout stats are all displayed on the 4 smaller LED screens.
Although I like the 9.65LC Backlit Display Screen better than the 4 LED windows on the 9.65TV, and optional mySmooth Virtual Trainer App appealing, it may take a few more software upgrades before it reaches its full potential.
Customer Reviews
Smooth Fitness was one of the first fitness companies to sell treadmills online and there are no shortage of customer reviews of Smooth Fitness treadmills. The Smooth 9.65LC has been out for a while now and there were quite a few customer reviews on this model.
Most of the SMooth 9.65LC customer reviews that we researched were very positive on the treadmill itself. Our composite customer review rating is:

4.49 of 5 stars from 59 customers on 2 websites.
---
All Features at a Glance:

Motor - 4.0 CHP
64" by 21" Tread belt
Incline - 1-15%
Non-Folding Frame
Installed Workout Programs - 28 total
Im-Pression™ Shock Absorption Cushioning
Console Display -ViviClear Blue Backlit LCD
Music Port and Sound System - MP3, iPod® compatible
Speed - 0.6 – 12 MPH
Heart Rate Monitors - Handrail, Hand Grip and Wireless (chest strap included).
2 Inch Rollers
Footprint - 82" L X 31.5" W
Unit Weight - 425lbs
User Weight Capacity - 400lbs
Warranty
Lifetime Frame & Motor
Lifetime Parts
2-Year Labor