Treadmill Before-You-Buy Checklist
Now that you have done your research, read all the reviews, selected your price range, checked out the different brands, reviewed the warranties and selected the perfect treadmill for your own personal needs and goals and you are ready to make your purchase, what's next?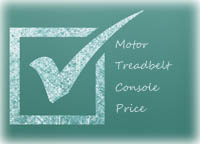 Before you take that final step and either add the treadmill to your cart online or run out to your B&M store to make your purchase, take a moment to be sure that you have made the right decision, selected the perfect treadmill for your own personal needs, did not miss an important consideration and have found the merchant with the best price and service.
---
Treadmill Selection Checklist
Note: You can actually click in the check boxes below to check off each item in the checklist and/or to keep track of where you are as you review the list. The checklist will NOT be saved online but you can print the blank or filled in checked list to reference or to complete at a later time.
---
We hope that this Before You Buy Checklist has been helpful to you in providing additional information that you might have missed or simply by confirming that you have already covered all the bases and to give you the peace of mind that you have made the best choice.
If you have found that the treadmill that you have originally selected does not meet the criteria above that is the most important to you or if you are a little unsure about your original selection please feel free to browse our website for our treadmill reviews and helpful resources.
In this case, you may find the following topics particularly helpful:
Our "Best Buy" Treadmills - for our Best Buy picks by price range.

Treadmill Ratings - for our ratings of the most popular treadmills by price range.