Horizon T303 Review
High-End Economy Treadmill
Horizon Fitness is known for high quality, economy treadmills. The Horizon T303 is the top model in the current Horizon Economy Category. Although "high quality" and "economy" are not always compatible with each other, Horizon focuses on the more important things, like higher quality parts and better overall design, and limits the extra features to current customer favorites.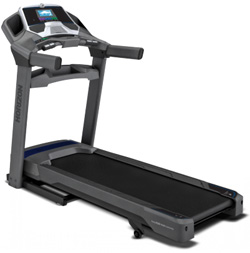 You get the most important treadmill features ~ described below ~ but You don't get as many of the "extra features" that you get with some other brands, like a wireless internet connection, downloadable workout programs and virtual tracking of your workout route.
What you do get ~ for "extra features" ~ includes a Music Port and Sound System so you can loose the wires and headphones, 3 Zone Variable Cushioning, Accessory Trays in both the console and stabilizer bar, Water Bottle Holder, Fan, Energy Saver Power Control and 12 Built-in Workout Programs including 2 customizable programs and even Performance Tracking.
On one of my recent trips to Johnson Health Tech in Cottage Grove Wisconsin ~ the parent company of the Horizon brand ~ I had the opportunity to review some of their latest fitness products with their management and product specialists and was very impressed with the products and their dedication to health and fitness.
Another nice benefit that I got from my trip to the Johnson Fitness headquarters is that I was offered a coupon code that I could use on this website to give my visitors 10% off of any Horizon Brand Treadmill. This really is a good deal that you will not find on other websites. See the details below.
---
Note: The Horizon T303 Treadmill is currently unavailable (was selling USED from Amazon for $450)s.See Horizon T303 Treadmills
for the latest availability or to get this treadmill online at the lowest price.
For the other latest treadmills from Horizon and Vision Fitness See Horizon and Vision Fitness Treadmills
---
Key Features of the Horizon T303
The Horizon T303 has the most important features that you need in an in-home treadmill including: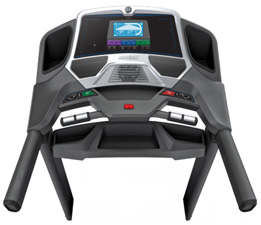 Large Walking/Running Surface (20" by 60") .
Powerful 2.5 CHP Motor for a smooth and quiet workout.
Incline of up to 12% for variety and a better overall workout.
5 3/4 Inch Backlit Display for an easy to read display in bright and low light rooms. (blue & white LCD)
Intuitive and Easy to Use Controls to easily control the treadmill or change display stats.
Foldable Design - The Horizon T303 folds up to conserve space and folds down for your workout more easily with its hydraulic support lever.
Treadmill eReview
I found the Horizon T303 to be sturdy and stable and that it compares favorably in side by side comparisons to other economy and mid-range models from different brands.
The T303 has a nicer and more finished look than many treadmills in its price range. For example the sides of the treadmill belt are covered by the plastic molding on each side, the extra stability bar (in front under the console) has additional storage space and the slightly darker color scheme looks much nicer than other brands.
Although the walking-running surface is large enough and the 2.5 CHP motor is strong enough for running, this treadmill is best for walkers, limited jogging or interval training for users of average height and weight.
Horizon rates the user weight capacity of this treadmill at 355 lbs which is a good indication of its durability however the assembled weight of this treadmill is only 187lbs so you may want to consider a higher end treadmill if anyone that will be using the treadmill is heavier or near the stated weight capacity of this treadmill.
For heavier use or a more durable treadmill see our NordicTrack 970 Review and our Sole F80 Review.
Partially Folding Treadmill?
Our treadmill reviews include hours of research including research of the existing customer reviews available on manufacturer, reseller and review websites. In addition to our consolidated customer review rating (below), we also look for common pros and cons.
In this case we noticed that a few customers had complained about the limited folding capacity of this treadmill. We discovered that this treadmill does not fold up to a completely vertical position. When folded up for storage the workout surface is at an angle and does not go completely vertical. This can also be seen with the stated dimensions of the treadmill. The assembled (unfolded) length is 76 inches and the folded length is 44.5 inches. You only save 31.5 inches when folded for storage.
This is not a show stopper for many people but if you have limited space and the fold up capacity is important to you than you may want to consider another brand.
Customer Reviews
There were quite a few customer reviews available online at the time of this review and most were very positive with the exception on a few with the common fold up space listed above.
Our composite score of the customer review ratings online is

3.68 of 5 stars from 13 customer reviews on 4 websites.
See the link buttons above for the latest customer reviews or to get the Horizon T303 for the lowest price online.
Don't forget to enter the Coupon Code: eReview10 on the Horizon site (after adding your product to your shopping cart) to get an additional 10% off the already discounted online price ~ This is an exclusive offer for TreadmillEReviews.com visitors.
---
All Features at a Glance:

Motor - 2.5 CHP
60" by 20" Tread Belt
Incline - 0-12%
Console: 5.75 inch Inch Backlit
Foldable Design
12 Built-in Workout Programs
Workout Tracking GoalCenter™ Performance Tracking

Music Port and Sound System - iPod® compatible
3-Zone Variable Cushioning
Coolfit Workout Fan
Speed - 0.5 – 12 MPH
Heart Rate Contact Grips
Footprint - 76" L x 34.5" W x 59" H
Folded Dimensions - 44.5"L x 34.5"W x 70"H
Weight Capacity - 350lbs
Warranty
Lifetime Frame & Motor
2-Year Parts
1-Year Labor