Horizon T101 Review
Quality Treadmill at a Reasonable Price
The Horizon T101 is the most affordable treadmill from Horizon Fitness. This treadmill is reasonably priced but you still get a good quality treadmill from a well established and reputable company.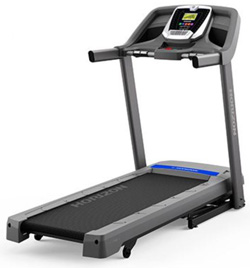 I have had the opportunity to visit the Johnson Fitness headquarters (Johnson Fitness is the parent company for Horizon) a few times now and I had a chance to try out many of their products. The Horizon Fitness products are much better quality than most other brands and their economy models (including the T101) as as good as many of the much more expensive equipment from other companies.
The Horizon T101 Treadmill meets or exceeds our checklist requirements for walkers and runners with the exception of tall runners with a long stride.
You get the most important treadmill features ~ described below ~ but You don't get as many of the "extra features" (mostly the entertainment and motivational features) that you get with more expensive models.
What you do get ~ for "extra features" ~ includes a Music Port and Sound System so you don't need those wires and headphones, plenty of console programs, a fan and a tablet rack.
---
Note: The Horizon T101 Treadmill is currently selling for $649 directly from Horizon with Free Shipping. See Horizon T101 Treadmill
for more information and videos or to get his treadmill online at the lowest price.
---
Key Features of the Horizon T101
The Horizon T101 has the most important features that you need in an in-home treadmill including: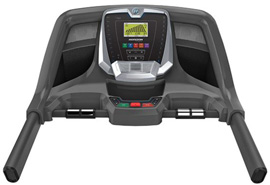 Large Walking/Running Surface (20" by 55") .
Powerful 2.25 CHP Motor for a smooth and quiet workout.
Incline of up to 10% for variety and a better overall workout.
Intuitive and Easy to Use Controls to easily control the treadmill or change display stats.
Foldable Design - The Horizon T101 folds up to 46" x 34" x 61" to conserve space and folds down for your workout more easily with its Featherlight Folding hydraulic support.
Treadmill eReview
Overall the T101 meets or exceeds our requirements for walkers and runners with the exception of very tall or heavy runners. This is an excellent treadmill for walkers, limited jogging or interval training for users of average height and weight.
The T101 has a nicer and more finished look than many treadmills in its price range. For example the sides of the treadmill belt are covered by the plastic molding on each side and the slightly darker color scheme looks much nicer than other brands.
Horizon rates the user weight capacity of this treadmill at 300 lbs which is a good indication of its durability however the assembled weight of this treadmill is only 165lbs so you may want to consider a higher end treadmill if anyone that will be using the treadmill is heavier or near the stated weight capacity of this treadmill.
Customer Reviews
Our treadmill reviews include hours of research including research of the existing customer reviews available on manufacturer, reseller and review websites. In addition to our consolidated customer review rating (below), we also look for common pros and cons.
The reviews for this treadmill were overwhelmingly positive (most were 5 of 5 stars). There were a few complaints having to do with various shipping damages but most of these were resolved to the customers satisfaction.
One other complaint that we found from a few customers was that when you power the treadmill on it beeps very loudly (full volume). You can turn the volume down after it is on but the next time that you use it it resets to full volume again.
This is not a show stopper of course but something to be aware of.
Our composite score of the customer review ratings online is

4.04 of 5 stars from 358 customer reviews on 2 websites.
See the link buttons above for the latest customer reviews or to get the Horizon T101 for the lowest price online.
---
All Features at a Glance:

Motor - 2.25 CHP
55" by 20" Tread Belt
Incline - 0-10%
Console: 4.5 inch LCD
Foldable Design
30 Built-in Workout Programs
Music Port and Sound System - iPod® compatible
3-Zone Variable Response Cushioning
Coolfit Workout Fan
Speed - 0.5 – 10 MPH
Heart Rate Contact Grips
Footprint - 70"L x 34"W x 55"H
Folded Dimensions - 46"L x 34"W x 61"HJ
Weight Capacity - 300lbs
Warranty
Lifetime Frame & Motor
2-Year Parts
1-Year Labor