Proform Performance 600i Review
Best Economy Model
How much should you spend for your new treadmill? Of course there are a number of factors to consider so one can not answer that question the same way for everyone but there are some practical answers based on your needs.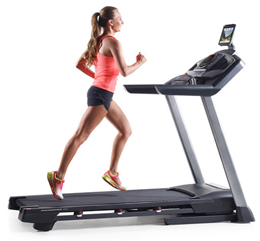 It is possible to get good quality, brand name treadmills that will meet ~ or preferably exceed ~ your needs and that will last for decades ~ depending on how heavily used it will be ~ for well under $1,000.
You need to be careful when shopping for treadmills in the under $1,000 price range.
There are some pretty poorly made treadmills out there in this price range from some low quality manufacturers that you really want to avoid.
There are also a few very good treadmills out there for under $1,000 including the Proform Performance 600i. FYI, Proform treadmills are made by ICON Fitness which the largest fitness equipment manufacturer in the world.
---
Note: The Performance 600i also sells directly from Proform for $799 with Free Shipping and additional deals. See Proform Performance 600i for the latest details on this model or to get the Proform 600i factory direct from Proform.
The Proform Performance 600i is selling indirectly from Amazon with Free Shipping options. See Proform 600i at Amazon
for the latest customer reviews or to get this treadmill online at Amazon.
---
This Year's Best Buy Economy Treadmill.
The features, overall quality, price and positive customer reviews have all contributed to our selection of the Proform 600i as this year's Best Buy Economy Treadmill.
Proform is the mid-range and economy brand of fitness equipment produced by ICON Fitness which, because of their resources, gives them the advantage of giving you more quality and features at a lower cost.
---
Key Features of the Proform Performance 600i
2.75 CHP Motor - The motor on this treadmill has plenty of power for a smooth and quiet walk or run and can handle the 12% incline better than the lower end models with less horse power.
Full size 20 by 60 inch Tread belt - Although you may be able to get away with a slightly smaller tread belt, if you, or anyone else that may use this treadmill, is tall or if you will be running more often then the larger size is a big advantage.
12% Incline - The 12% incline that you get with this model can give you a much better workout in a shorter amount of time whether you walk, run or both.
Foldable, Space Saving EasyLift Assist - The Proform 600i is foldable and also has the EasyLift Assist feature to make it easier to fold up and store out of the way when you are done with your workout.
Entertainment and Motivational Features
22 Built-in Workout Programs - You get quite a bit of variety in your fitness routine with the 22 built-in programs. These programs are easily accessible on the console at any time and with no additional equipment or costs.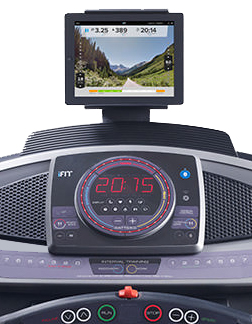 iFit and Bluetooth Compatible Console - In addition to the built-in programs you also have the option to walk or run pretty much anywhere in the world with the iFit and Google Maps technology.
Note: This is not just a display of the scenes on your screen. The incline of the treadmill also adjusts to match the route that you have selected.
This option requires a fee for the iFit membership but is worth checking out for some additional motivation and entertainment. You also get access to unlimited workout programs, can customize your own workout plans and can share your stats online with this option.
Music Port and Sound System - There is nothing like listening to some great music to help pass the time as you work out. You can always use your ear buds as needed when you need to keep it down for other people near by but with the built in sound system you can listen more comfortably as you wish.
Treadmill eReview
The Proform Performance 600i treadmill exceeds our requirements for the Economy (under $1,000) Treadmill category. Proform makes other treadmills that cost even less but they do not have as strong of a motor, as much incline capability or as large of a tread belt as the 600i.
Aside from the physical requirements, the electronics and motivational features of this treadmill are excellent. You get the latest iFit option along with Bluetooth capability.
Proform rates the user weight capacity of this treadmill at 325 lbs which is a also good indication of its durability and is partially due to the powerful motor.
One other small but nice feature that I like is the tablet computer holder. This has become fairly standard on a lot of newer treadmills these days but it is really nice compared to the older models that do not have this feature.
Customer Reviews
At the time of this review, there were only 2 customer reviews on Amazon that rated the Proform Performance 600i at

(5 of 5 stars).
See Proform Performance 600i for the latest customer reviews or to get this treadmill online at the lowest price.
---
Features at a Glance:

Motor - 2.75 CHP
60" by 20" Tread belt
Incline - up to 12%
Console: Round Watts LED Display
iFit and Bluetooth Smart Enabled
Integrated Tablet Holder
Foldable,EasyLift™ Assist Design
22 Built-in Workout Programs
Music Port and Sound System - iPod® compatible
ProShox™ Cushioning
CoolAire™ Workout Fan
Speed - 0 – 12 MPH
EKG™ Heart Rate Monitors - (handle grip)
Footprint - 79.75"L x 36.75"W x 59.25"H
Weight Capacity - 325lbs
Warranty
Lifetime Frame & Motor
2-Year Parts
1-Year Labor