Proform 600C Review
Economy and Quality
Is it possible to find a treadmill with enough power to handle walking and/or running, a steep enough incline for a more intense workout in less time, a high tech console with plenty of motivational features and the kind of durability that is backed up with an excellent warranty for under $1,000?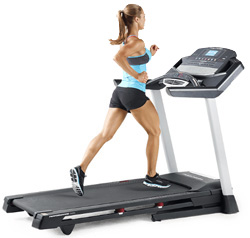 Of course, you know that I'm going to yes it is possible and that I am referring to the Proform 600C.
You need to be careful when shopping for treadmills in the under $1,000 price range. There are some pretty low quality, stripped down treadmills out there in this price range (and even some pretty low quality models that sell for quite a bit more).
There are also a few pretty good treadmills out there for under $1,000 including the Proform Performance 600C. OK, "pretty good" is not exactly a raving compliment but keep in mind that this is a low cost treadmill, and even though it comes with more features and better quality than you usually get in this price range, it is an economy model and will not compare to the higher-end treadmills in overall quality (although it compares quite favorably to some comparable models in the price category).
---
Note: The Proform 600C Pro has been replaced with the Newer Proform Performance 600i ~ which, as of 3/4/2017, is selling for $799 directly from Proform with Free Shipping.
See Proform Performance 600i for the latest details on this newer (and very similar) model.
The 2014 Proform 600C Pro is now selling for $1,498 indirectly only from Amazon (which defeats the purpose of getting a lower cost model). See Proform 600c at Amazon
for their latest availability, price, reviews or to get this treadmill online from Amazon.
---
Proform is the mid-range and economy brand of fitness equipment produced by Icon Fitness (the largest fitness equipment manufacturer in the world) which gives them as advantage of giving you more quality and features at a lower cost as you can see with the Proform Performance 600C Treadmill.
---
Key Features of the Proform Performance 600C
2.5 CHP Motor - The motor on this treadmill has plenty of power for a smooth and quiet walk or run and is one of the key advantages that this treadmill has over other low cost models. The motor on the 600C also has a Lifetime Warranty.
12% Incline - The next big advantage that you get is the 0-12% incline for a better, lower impact workout in less time. The 2.5 CHP motor, described above, compliments the additional incline to make sure that you have enough power handle those steeper ~ simulated ~ hills.
Foldable, Space Saving Design - The Proform 600C is foldable so when you are done with your workout you can fold it vertically for the extra space.
Six Inch Backlit Display - The 2 color (blue and white) backlit display on the console gives you all of your key workout stats in format that is easy to read in bright light or low light environments.
Entertainment and Motivational Features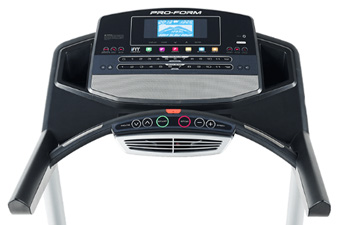 22 Built-in Workout Programs - You get quite a bit of variety in your fitness routine with the 22 built-in programs. These programs are easily accessible on the console at any time and with no additional equipment or costs.
Music Port and Sound System - Ditch the ear buds or headphones as you choose, plug in to the iPod compatible music port and listen to your workout music comfortably though the sound system built in to the console.
iFit Compatible Console - This feature allows you to access iFit Live via a wireless internet connection to:
Get access to unlimited workout programs.
Customize a workout plan to meet your goals.
Download existing routes from all over the world or create your own custom routes, like a favorite local walk, or run then track your progress with Google Maps™ as your treadmill adjusts the incline to simulate the terrain of your route.
Compete with friends or family online.
The iFit Features are Optional on this treadmill which means that you need to purchase the iFit adapter separately. This is actually good in that having this as an option keeps the initial costs down if you want to wait and add this feature at a later date when you are ready for it.
Treadmill eReview
We are usually very careful about recommending low cost or economy treadmills. Most of the time (not always, however) you get what you pay for and you are better off with a mid-range or higher-end treadmill.
With that said, we still feel that the Proform 600C is a very good treadmill with plenty of features and a good warranty for moderate in-home use. This treadmill is best for walkers and some limited, less aggressive running.
Proform rates the user weight capacity of this treadmill at 325 lbs which is a good indication of its durability and is partially due to the powerful motor. However you may want to consider a higher end treadmill if anyone that will be using the treadmill is heavier or near the stated weight capacity of this treadmill.
Within the limitations mentioned above we have included the Proform 600C as our current Best Buy Economy Treadmill and would recommend this treadmill for walkers, limited running and lighter in-home use.
Customer Reviews
Although there were quite a few professional or expert reviews of the Proform 600C, this treadmill is still relatively new and there were very few "Customer Reviews" available online.
At the time of this review, there were only 13 customer reviews on the Buzzillions website that rated the Proform 600C at

(3 of 5 stars) based on 3 customer reviews.
See Proform 600c at Amazon
for the latest customer reviews or to get this treadmill online from Amazon.
---
Features at a Glance:

Motor - 2.5 CHP
58" by 20" Tread belt
Incline - 0-12%
Console: 6 inch Inch Backlit, iFit Compatible
Foldable,EasyLift™ Assist Design
22 Built-in Workout Programs
Music Port and Sound System - iPod® compatible
ProShox™ Cushioning
CoolAire™ Workout Fan
Speed - 0 – 12 MPH
Heart rate Monitors - GripPulse EKG™ (hand grip)
Footprint - 79.6" L X 36.7" W X 59" H
Weight Capacity - 325lbs
Warranty
Lifetime Frame & Motor
2-Year Parts
1-Year Labor