Precor 9.27 Treadmill Review
Proven Quality and Durability at the Gym

You may not be buying multiple treadmills for a large fitness club but if you have worked out in fitness clubs, gyms or other commercial settings you have most likely used and are already familiar with Precor treadmills.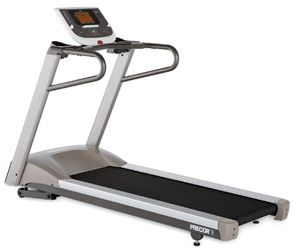 When you are buying just one treadmill you will not have power to negotiate a quantity discount. The Precor 9.27 gives you the power to get Precor commercial quality and durability at a light commercial / residential price.
Most Precor treadmills are made to handle long hours of use and abuse by all kinds of users (short, tall, light, heavy, casual and aggressive) and Precor has plenty of experience building and supporting type of product.
The Precor 9.27 is all about commercial quality, durability and ease of use at a single unit price that is within reach for light commercial and in-home use. You get a heavy, stable and rock solid frame, powerful motor and plenty of room for taller and heavier walkers and runners.
Although you do not get all the latest electronic devices and gimmicks, you do get an easy to read and easy to use LCD control panel with a nice variety of on board programs for walking, running, interval training, weight loss, hill climbing and Heart-Rate Control programs. You also get the wireless chest strap heart-rate transmitter as well as the handgrip HR transmitter.
---
Note: The Precor 9.27 is currently unavailable. Fortunately, Amazon still carries many high end Precor models at reduced prices. For example, the Precor TRM 223 Energy Seriec Treadmill is selling directly from Amazon for $2,898 with Free Shipping.
See Precor TRM 223 Energy Series
for the latest price, customer reviews or to get this treadmill online at the lowest price ~ or see the link near the bottom of this page for all Precor Treadmills available from Amazon.
---
Precor Commercial Fitness Equipment Experience
Precor Fitness Products have been around for over 20 years now and the large majority of Precor products are made for and sold to commercial buyers.
This background, and the experience that comes with it, has given Precor a big advantage in understanding what people want in their workout routines and how to make fitness products that are low maintenance, dependable and durable.
---
Key Features of the Precor 9.27 In-Home Treadmill
Shock Absorption - The Shock Absorption system on the 9.27, that Precor calls "Ground Effects", is one of the key features of the Precor 9.27. Although the technology behind this feature can get complex the concept is pretty simple.
The 9.27 is designed to absorb more impact towards the front of the running surface, where your foot comes down, and to provide more support towards the back of the running surface, where you push off for your next step.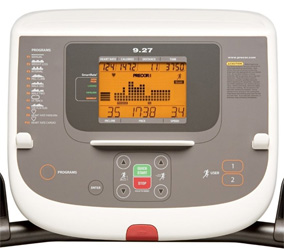 Easy to Read and Easy to Use Console - The 4" by 3" amber background LCD screen on the Precor 9.27 gives you your most important workout stats in an large, easy to read format and the clean, uncluttered console gives you quick and easy access to the treadmill's settings.
10 Installed Workout Programs - For variety and motivation you get 10 built-in workout programs including the full manual mode, 2 walking programs, a 5K Track Run, Fun Run, Hill Climbing, Interval Training, Weight Loss mode and 2 Heart-Rate Control (HRC) programs which control the treadmill settings based on your heart-rate.
Wireless Chest Strap - You get the chest strap and Polar wireless heart-rate transmitter with the treadmill. This is not an expensive item, of course, but it is nice to have the compatible trans meter right when you get your treadmill and not have to worry about getting the right one later (one less thing to have to do later).
+15% Incline - Get a more intense workout in less time and/or reduce the impact of your workout with the 0%-15% Incline feature. Most treadmills include an max incline of 10%-12%. The additional incline lets you workout harder, gives you more variety and works different muscle groups.
Treadmill eReview
When it comes to commercial fitness products, Precor is a well known and respected brand name. They would not have survived in this competitive market without high quality, dependable and durable products.
Unfortunately, most Precor treadmills are also priced for the commercial market. Although the Precor 9.27 Treadmill is expensive for the residential market, it is within reach for residential users that want light commercial quality and durability and are familiar with Precor fitness products.
If you are looking for the latest technology, electronics and console features then you may want to look at NordicTrack or some of the other popular in-home brands. If, on the other hand, you want a dependable and durable treadmill from a well know commercial treadmill manufacturer then the Precor 9.27 is an excellent choice.
Customer Reviews
At the time of this review, there were quite a few customer reviews on the Precor 9.27 available online. Most were overwhelmingly positive and our composite score of the customer reviews online was

4.3 of 5 stars from 32 customers on 3 websites.
See All Precor Treadmills at Amazon
for the latest prices and customer reviews or to get Precor treadmill online at the lowest price.
---
Precor 9.27 Features at a Glance:

Motor - 3.0 CHP
57" by 20" Tread belt
Incline - 0-15%
Installed Workout Programs - 10
Shock Absorbing - Ground Effects® Impact Control System
Console - 4 inch x 3 inch LCD
Speed - .5 – 12 MPH
Heart rate Monitors - Touch (hand grip) and Wireless Telemetry with Chest Strap Included.
Steel Crowned Roller
Footprint - 81" L X 31" W X 54" H
Unit Weight - 290 lbs
Weight Capacity - 350lbs (500lbs walking only)
Warranty
Lifetime - Frame & Welds
5-Year Parts (Mechanical and Electronic)
1-Year Labor