NordicTrack C970 Pro Review
Quality Treadmill at an Affordable Price
The NordicTrack C 970 is at the upper-end of NordicTrack's C-Series Treadmills. This means that you get NordicTrack quality and plenty of the most popular treadmill features at an excellent price.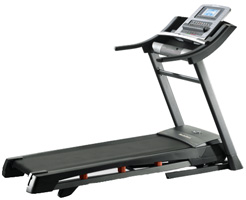 For a very reasonable price you get:
Plenty of Room to Walk, Jog or Run with the 60" by 20" tread belt.
A Smooth, Consistent and Quiet Workout with the 3.0 CHP Motor.
A More Intense Workout in less time with the 15% Incline feature.
This particular model also comes with adjustable cushioning which allows you to set the amount of cushioning to reduce impact, for less stress on your body, or to give you a firmer surface for a firmer and more realistic road feel. The cushioning is easily set with the orange supports underneath the treadmill surface.
---
Note: The 2014 NordicTrack C970 Pro is currently sold out (was selling for $949 new at NordicTrack.com).
Fortunately, this treadmill has been replaced with upgraded NordicTrack C990 (more on this upgrade soon). See the NordicTrack C990 for the newer, updated model from NordicTrack which is currently selling directly from NordicTrack for $899 with Free Shiping.
---
NordicTrack is the high-end brand of fitness equipment produced by Icon Fitness (the largest fitness equipment manufacturer in the world) which gives them as advantage of giving you more quality at a lower cost as you can see with the NT C970 Pro.
NordicTrack brand is only sold directly online and at Sears stores. You get the advantage of seeing and trying out NordicTrack models at Sears and comparing them to the models that they offer online. You do have to keep in mind though that many of the models that are sold at Sears have different model numbers than the models sold online even though, in many cases, they are the exact same machine.
---
Key Features of the NordicTrack C 970 Pro
60" by 20" Tread belt - The large surface of the tread belt gives even tall users with long strides plenty of room to walk, jog or run.
3.0 CHP Motor - The C970 Pro motor provides plenty of power for a smooth, consistent and quiet workout.
15% Incline - Get a more intense workout in less time and reduce the impact of your workout with a steeper incline. Most treadmills in this price range will include an incline of 10%-12%. Some of the lower-end models do not even include an incline feature.
Foldable, Space Saving Design - When you need the extra space, the C970 Pro can fold and be moved out of the way. This is, however, a very heavy and sturdy treadmill (260lbs) so this is not an effortless task.
32 Installed Workout Programs - For variety and motivation you get 32 workout programs (or workout apps as they are sometimes called). This includes 8 high intensity, 8 calorie burn, 8 Speed and 8 Incline programs.
iFit Compatible Console - You know that you are going to get built in workout programs with almost any mid-range or better treadmill (the C970 Pro comes with the 32 mentioned above). The primary motivational and/or entertainment feature of the C970 Pro, however, is actually the iFit Compatible Console.
iFit Live technology is the option to wirelessly connect to the internet (via wi-fi) to download workout programs, download existing routes from all over the world (via Google Maps™) or to download your own custom routes (like a favorite local walk, jog or run) or to compete with others.
You can also upload the workout data to your iFit account to analyze, track and/or share with family or friends and track your workout route interactively via a map of your course or with Google Maps™. This requires and a separate device and browser (for example: a laptop, tablet or smart phone).
The iFit features are optional on this treadmill which is nice since having this as an option keeps the initial costs down and when you buy the iFit adapter, currently selling for $100, you also get an iFit account for 1 year (required for full iFit Live features) which is what the iFit account costs for a year anyway.
The Simple Features:
Some of the simple features that I like on this treadmill, which are often overlooked include:
The Small Ledge or Holding Rack located on the console.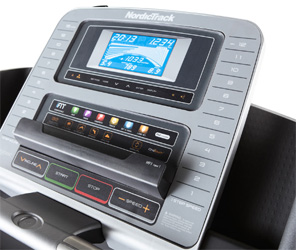 This ledge is a nice size to hold a cell phone, music player or even tablet computer where they are easily accessible and can also be moved aside easily. Sometimes even the small things make your fitness routine a little nicer.
The Speed Sensitive Fan that adjusts the fan speed to the treadmill workout speed.
The Wireless Chest Strap comes with the treadmill. A wireless chest strap is not expensive, of course, but it is convenient to have the chest strap when you want it and to have the correct one come with the treadmill (one less thing to buy later).
Treadmill eReview
To start off with you get more features and better quality with the NordicTrack C970 Pro than you do with other treadmills in this price range since it is from NordicTrack, the high-end division of the largest fitness company in the world (Icon).
The most important features of this treadmill ~ the powerful motor, the large running surface, the easy to read backlit console and the 15% incline ~ are more than sufficient for most runners and are a nice luxury for walkers and joggers.
Your speed and incline are easily adjustable with the touch of a prominently displayed button (one button for speed and one for incline) and you have a good selection of built-in workout programs.
When you are ready for additional motivation, or boredom breaking features, you have the option to add the iFit Live module and all the popular apps that you get with it.
The folding feature of this treadmill is both good and bad. This is a heavy treadmill and it is a little difficult to fold and move around. On the other hand since this is a heavy treadmill it is very sturdy and solid when you use it for your workout.
I would recommend the NordicTrack C970 Pro as a more than adequate treadmill, with plenty of extra features, for under $1000. This treadmill has earned its place on our "Best Buy" list in the Under $1000 category.
Customer Reviews
This treadmill is still relatively new which makes finding unbiased customer reviews on this exact model difficult. NordicTrack customer reviews can be particularly hard to find since the models sold at Sears usually have different model numbers (even when they are the same machine) than the models sold on the NordicTrack web site and the treadmills are not sold at the other popular online websites.
At the time of this review, there was only 1 customer review on the NordicTrack website that rated the NordicTrack C970 Pro at

(4 of 5 stars).
There were customer reviews of similar NordicTrack models at Sears and Buzzillions.com which are listed below:
NordicTrack C950, 4 of 5 stars from 6 reviews at Sears
NordicTrack C900i, 4 of 5 stars from 6 reviews at Sears
NordicTrack C900 Pro, 3.5 of 5 stars from 18 reviews at Buzzillions.com
See NordicTrack C990 Pro for the latest customer reviews or to get this treadmill directly from NordicTrack.
---
All Features at a Glance:

Motor - 3.0 CHP
60" by 20" Tread belt
Incline - 0-15%
Foldable, SpaceSaver® Design
Installed Workout Programs - 32 total, 8 high intensity, 8 calorie burn, 8 Speed and 8 Incline programs.
Adjustable, Shock Absorbing Cushioning
Console - 7 Inch Backlit, iFit Compatible
Music Port and Sound System - iPod® compatible
Speed - 0 – 12 MPH
Heart rate Monitors - CardioGrip™ (hand grip) and Wireless with Chest Strap Included
2.5" Rear Roller
Footprint - 82.3" L X 36.6" W X 74.25" H
Weight Capacity - 350lbs
Warranty
Lifetime Frame & Motor
3-Year Parts
1-Year Labor