Treadmill eReviews and eResource
Reviewing treadmills can be a time-consuming workout in itself. We are here to make that process Quicker and Easier for you and to provide additional information that you may not have considered and that is not always available or easy to find on other websites.
Reading Customer Reviews alone may not always give you an accurate assessment of the treadmill that you are considering for your home.
Reviews by Fitness Industry Experts, Professional Review Sites and Consumer magazines and websites can provide valuable information not usually found in customer reviews alone...
We give you all of this in a direct and easy to follow format. For additional information on our treadmill review and rating processes see our Treadmill Ratings and About pages.
Reviews of our most recommended treadmills can be easily found with the links on both sides of each page on this website~ or at the bottom of each page for mobile users.
---
When you already know the Specific Treadmill Brand and Model that you are looking for:
See our BeforeYouBuy Checklist for important information to review before you make your treadmill purchase. Even after you have done your research, shopped around and made your selection, a quick review may point out something that you may have overlooked or at least give you peace of mind that you have covered all the bases.
Checkout our Treadmill eStores for an easy to use list of links to the best online Treadmill Stores with the brands that they sell to help you to quickly find the best price online.
---
When you already know the Treadmill Features that you need, Your Price Range and/or the Brand that you prefer:
See our Best Buy Treadmills page for our Best Buy picks by price range.
See our Treadmill Ratings page for our ratings of the most popular treadmills by price range.
---
Just started looking or undecided...
When you are looking for the perfect Treadmill you will need to know the Treadmill Basics ~ below ~ select the right features for your specific needs ~ walking, jogging, running ~ height and weight and know which brands and models are the most reputable and give you the best buy within your price range.
Treadmill Basics
Treadmill Motor - The treadmill motor is is one of the most important components of any treadmill. There are a number of factors that contribute to the quality of a treadmill motor but the most obvious factor that you have control over when selecting a treadmill is horsepower.
When you are selecting and comparing the horsepower of treadmill motors you should be looking at Continuous Duty HP (CHP) and NOT Peak HP.
The table below can be used as a guide for selecting treadmill motor horsepower. Add .5 HP if you weigh over 200 lbs.
| | |
| --- | --- |
| Primary Use | Continuous Duty Horsepower |
| Walking | 2.0 CHP |
| Jogging | 2.5 CHP |
| Running | 3.0 CHP |
Treadmill Belt and Belt Size
The treadmill belt is the next major component on any treadmill. The treadmill belt should be a minimum of 2 ply for durability, lower noise and for better overall performance.
The treadmill belt size is the next important factor to consider. Treadmill belts are typically available in widths of 16"-22" and lengths of 45"-62".
Your height, the length of your stride and what you intend to use your treadmill for the most (walking, jogging, running) will be factors in determining the minimum length and width of your treadmill belt.
The table below can be used as a guide for selecting minimum belt width and length but keep in mind that treadmills with wider and longer belts are usually more versatile and preferable.
| | | |
| --- | --- | --- |
| Primary Use | Length | Width |
| Walking | 50"-54" | 18"-20" |
| Jogging or Running | 54" or more | 20" or more |
| Tall Runner with Long Strides | 58" or more | 20" or more |
Rollers and Roller Size
Rollers are another important component of any treadmill. A larger, high quality roller will reduce heat and wear and tear on the tread belt and help to extend the life of the motor. When it comes to rollers larger is better. Some of the higher quality treadmills ~ from NordicTrack and Sole for example ~ will have rollers up to 2.5 inches while some high-end models have rollers up to 3 inches.
Incline and Decline
Most treadmills include an incline feature that allows you to set the incline of the walking/running surface for a better workout and to more accurately simulate an outdoor workout. The incline on most treadmills can be set up to 10-15%.
Some, but not all, treadmills also offer a decline feature which targets different muscles and gives you a more realistic workout. The decline can typically be set up to 3%.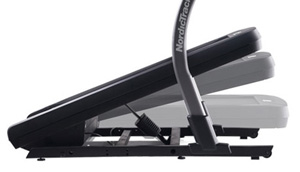 Some treadmills, like Incline Trainer models, have surfaces that can be set to an incline of up to 40% and a decline up to 6% for a more intense workout and to target additional muscle groups.
The amount of incline and/or decline that you choose will ultimately be a personal preference but it is good to know what the typical ranges are for these features when comparing different models.
Treadmill Consoles, Features and Programs
Treadmill Consoles: 1) Control the treadmill, 2) Keep track of your workout statistics and 3) Provide entertainment and motivational features as you workout.
Common Console Features
Treadmill console designs and features are constantly changing and improving every year. Although it can be hard to keep up with all the latest treadmill technology, there are many features that are common to almost all treadmills ~ such as speed controls, incline controls, quick start/stop controls ~ and other features that have become almost standard on most modern treadmills ~ such as a music player jack, sound system and volume controls, built in workout programs and heart-rate monitors.
Additional Console Features
Although you will usually get a number of pre-installed workout programs to control the speed and incline of the treadmill for various types of workouts such as for weight loss, interval training and hill climbing, some treadmills also offer user defined programs where you can create customized workouts of your own.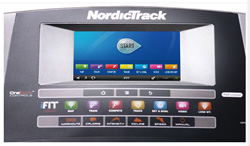 Another popular treadmill console feature that can be found on Nordictrack and Proform treadmills (as well as a few other brands) is iFit Live.
iFit Live allows you to wirelessly connect to the internet to download additional workout programs or pre-existing routes of popular trails and places through the use of Google Maps. You can also use this feature to create and store favorite real world routes of your own such as a favorite path through your own neighborhood.
When you select a pre-existing or customized route iFit live will adjust the treadmill incline to match that of the real world terrain and you can watch your progress on the street view, satellite view or street map on a laptop or mobile device or on the console, if you your treadmill has the Google Android browser built in.
Although most mid-range and better treadmills include hand grip heart-rate monitors it is nice to have the option to use a wireless HR monitor (and even nicer when the chest strap and transmitter are included).
Warranties
And finally, this summary would not be complete without a word about treadmill warranties. The warranty is a good indication of the confidence that a manufacturer has in the each of their products. A 90-day parts and labor warranty for example indicates a potentially poor quality treadmill. A 2-year parts and labor warranty indicates a pretty good quality machine.
---
Treadmill eReviews - Latest Posts and Updates
This section is for those of you who have browsed this site before and are looking for the latest updates to this website. The links below are the most recent new pages and updates. The older information will drop off as newer posts and pages become available.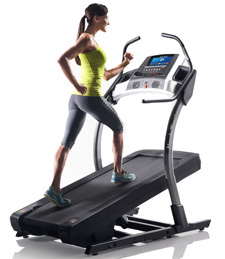 Horizon T101 Review - The Horizon T101 Treadmill meets or exceeds our checklist requirements for most walkers and runners and sells for a great price. See our professional review for more details along with our customer review analysis.
NordicTrack X9i Incline Trainer Review - Whether you call it a treadmill or Incline Trainer you actually get 2 Fitness Machines for the Price of One. Walkers get a more intense workout in less time while Runners get the powerful motor and have plenty of room to run. See what else this machine has that has made it our Best Buy Incline Trainer.
---
At treadmillereviews.com, we are into aerobic fitness ~ indoor and outdoor ~ and have been helping people by providing high quality, professional fitness equipment reviews for years.